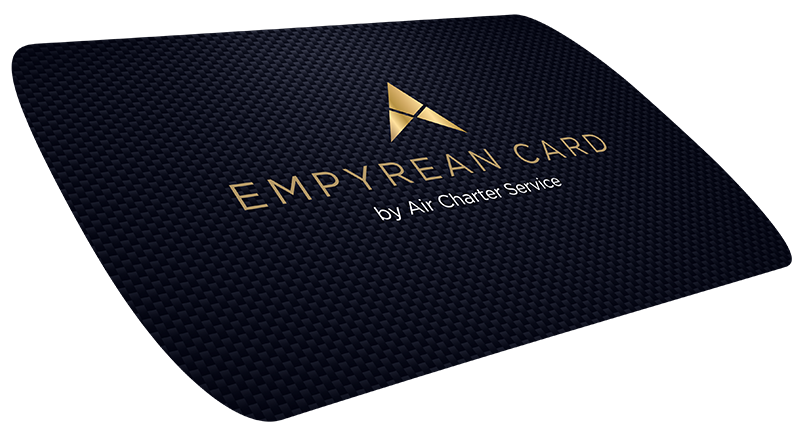 3 Types of Jet Card, 3 ways to pay
As an Empyrean Card holder, you have the freedom to decide the method via which you purchase your private jet charters. Be it by an hourly rate, the market price or with a capped rate account, the choice is yours.

Freedom to Fly Anywhere, Anytime
An Empyrean Card gives you the ability to fly to and from anywhere in the world that is accessible by private air charter. Our local knowledge, immense global buying power and unrivalled access to aircraft mean we always deliver the best charter solutions for your unique requirements.

Ease of Booking
As well as unrivalled flexibility, the Empyrean Card makes booking aircraft charters effortless. A one line message is all it takes to confirm your private flight.

Dedicated Concierge
All Empyrean account holders enjoy a dedicated concierge service that is on hand 24/7 to arrange the other elements of your journeys such as accommodation, transfers and even tickets for scheduled flights.

A Range of Aircraft, the choice is yours
No matter which Empyrean account you decide is right for you, you are never limited to a set fleet or aircraft category. Choose from an extensive range of private aircraft, from helicopters and propeller planes to jets and VIP airliners.

Deposits, Commitment and Fees
With no expiry dates on your funds, accounts with no minimum commitments and no monthly membership fees, the power is in your hands.

Financial Peace of Mind
We believe your jet card deposits should always remain protected, which is why your funds are held in a separate client account. This means your deposits are used for delivering your flights, not running our business.

The Empyrean Card is the world's most flexible jet card, with three different types of account.
COMPARE ACCOUNTS